| | | | |
| --- | --- | --- | --- |
| Place of Origin: | Shenzhen, China (Mainland) | OEM: | Yes |
| Process: | Extruded | Temper: | T5 |
| Material: | AL6063 | Shape: | Square |
| Packing: | Standard export Packing | Brand Name: | LORI |
| Application: | Electronic Industry | Certificate: | ISO 9001:2015, ISO 14001:2015 |
| Model Number: | LR0169 | Tolerance: | 0.01 mm |
| Finish: | Hard Andoized | Size: | 300*125*50 mm, Custom design |
| Extra process: | CNC Machining | Sample Service: | Differernt sizes are availabe for prototypes test |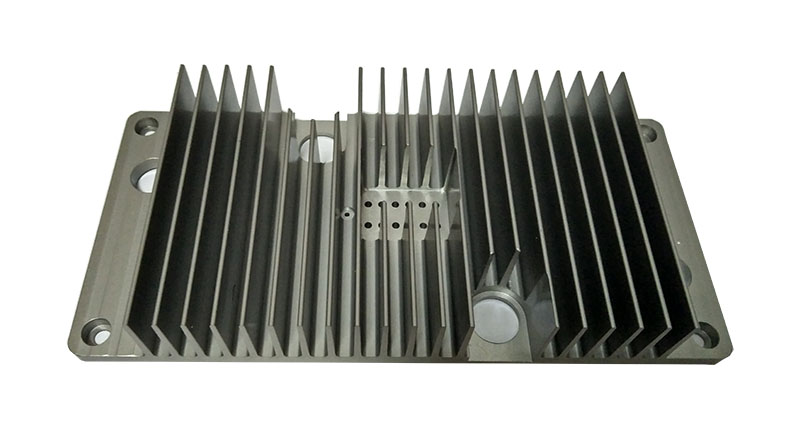 This hard anodized aluminium extrusion heat sink is 300*125*50 mm, also we can provide some standard differernt sizes and shapes extrusion heat sink for customer. TThe production process for the hard anodized aluminium extrusion heat sink are profiles extruding, cutting, CNC Machining(milling, drilling,tapping), deburring, cleaning, hard anodizing,inspecting, packing. The surface treatment is hard anodize, the thickness of the hard anodized film is generally required to be 25-150um, and the thickness of most hard anodized films is 50-80um, this extrusion heat sink is 50um.
1: The color film is gray, brown, dark green to black, and the material composition and technology related, and the lower the temperature, the thicker the film the deeper color.
2: The hardness of oxide film is extremely high, HV=1200-1500 on pure aluminum, and the hardness of alloy aluminum is significantly reduced HV=400-800. The wear resistance can be greatly improved due to the adsorption of lubricant through micropores.
3: The thickness of the film layer can be up to 250 microns, so called thick film oxidation.
4: Corrosion has a very high corrosion resistance, especially in the industrial atmosphere and Marine climate has excellent corrosion resistance.
5: Insulation and insulation of hard film resistance, film layer 100 microns, can withstand more than 2000 volts, melting point up to 2050 degrees Celsius, thermal conductivity as low as 67KW/(M.K), is an excellent heat resistant material.
6: The binding force and the body combination is very strong.
Because of the characteristics of aluminum hard anodizing, it is widely used.It is mainly used for aluminum parts with high requirements of heat resistance, abrasion resistance and insulation, such as aluminum heat sink, piston, cylinder, bearing, water and electricity equipment impeller, etc.
Lori focus on 11 years of aluminum heat sink production and design, has a heat sink production line, equipped with extrusion, anodizing, electrophoresis, powder coating, fluorocarbon coating, polishing, wood, wire drawing, CNC and other large-scale production equipment, from raw materials into the factory to help aluminum, the extrusion, surface treatment, after shipment to the deep processing of aluminum products, high-end products to provide customers with one-stop service.