Place of Origin:
Shenzhen, China (Mainland)
OEM:
Yes
Process:

Profiles Extruding

Temper:
T3-T8
Material:
AL 6063 T5
Shape:
Square
Packing:
Standing Export Packing

Brand Name:

LORI

Application:
IGBT inverter
Certificate:
ISO 9001:2008,ISO 14001:2004
Model Number:
IGHS006
Tolerance:

0.01 mm
Finish:
Anodizing
Quality control:
100% thermal test
Extra process:
Cutting + CNC Machining(Milling, Drilling,Tapping)
Size:
142(W)*71.5(H)*200(L)mm, or custom design
Max Aspect Ratio
More than 20 times aspect ratio heat sink can be extruded by 800 tons--5000 tons extruding machine by the most advanced technology
Max Width
Ultra wide extruded heat sink can be made by our unique friction welding technology
Sample Service
Samples with differernt sizes are availabe for prototypes test within 1-2 week
Production Process
Aluminum base ---Cutting---CNC Machining(Milling, Drilling,Tapping), Deburring, Cleaning, Inspecting, Packing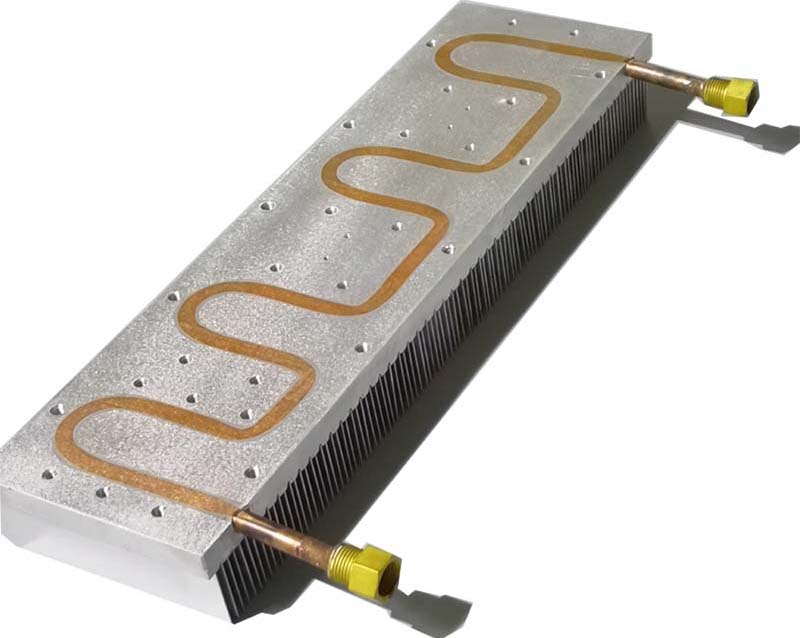 IGBT Heat Sink With Copper Tube Water Cooling
This IGBT heat sink with mainly included heat sink bonded fin, copper tube and base, wherein the base is provided with a number of mutually parallel grooves, the grooves are then soldered with solder to the evaporating section of the heat pipe
In the existing igbt heat sink cooling technology, the evaporating section of the copper tube is buried in the base groove, which does not directly fit with the base of IGBT. During the IGBT working process, the heat on the surface of IGBT is firstly dissipated through the base, and the heat then transferred to the heat pipe and heat sink fin. Finally, the heat is transferred to the air by convection through the heat sink fins.
IGBT Heat sink applied to LED Lighting, Inverter, Welding Machine, Communication Device, Power Supply Equipment, Electronic Industry, Thermoelectric Coolers/Generator, IGBT/UPS Cooling Systems,etc.
◪ In order to ensure the best service to the customer , we have formulated this after-sales service system, the company solemnly to the users of after-sales service work to do the following commitment:
◪ 1.Provide online technical support for customers, and provide consulting services on related issues
◪ 2.From the date of spontaneous delivery, if there is any quality problem or quality objection to our company's customized products, please contact with us in time. After checking and coordinating, we can return and replace the products in time.